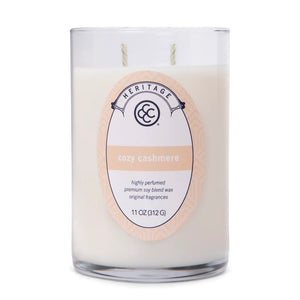 Colonial Candle
Cozy Cashmere 11oz ~ 2 Wick Cylinder Candle ~ WHITE WAX
Regular price
$17.00
Sale price
$22.00
Unit price
per
Starting in 2000, Colonial at Home brought the Colonial Oval to life with amazing fragrances. Today's Heritage Collection from Colonial Candle celebrates our origins in fine fragrance and brings back the original formulation of your favorite fragrances. Available for a limited time only, stock up on your favorites before they disappear back into the vault!
Cuddle up with Colonial Candle's favorite warm fragrance, Cozy Cashmere. Poured into a tall cylinder jar adorned with a shiny Colonial embossed lid, this candle makes a subtle, sleek statement. A paper label with a nod to this fragrance's roots, the Oval, is the perfect finishing touch. The Heritage Collection honors the legacy of Colonial fragrance by bringing original formulations back. Stock up on your favorite fragrances before they go back into the Colonial vault!
Wrap yourself in the nurturing warmth of Cozy Cashmere. Hues of ginger flower and anise add depth to a classic comfort fragrance. Creamy aromas of vanilla orchid and coconut intermingle with sandalwood and musk for a dynamic burn experience. The Heritage Collection celebrates your favorite fragrances from the Colonial Candle archives. The fragrances have remained the same while the look of the candle has been modernized. The sleek jar with a shiny silver lid adds a touch of elegance to your home. Not to mention, the geometric twist made to the label. The Heritage Collection remains true to its core with some added flare!
COMFORT | Snuggle up with your favorite blanket near the flame of Cozy Cashmere. Notes of anise and vanilla orchid bundle together with sandalwood and musk for an unbelievably comforting aroma.
Nothing says comfort like Cozy Cashmere. Wrap yourself in a blanket of anise and creamy coconut blended seamlessly with sandalwood and musk. This fragrance is the perfect addition to your home any time of the year!
FRAGRANCE | T: Ginger Flower, Anise, Watery Nuances M: Vanilla Orchid, Creamy Coconut B: Sandalwood, Musk, Amber
BURN | Featuring two premium cotton wicks, this soy blend candle boasts a premium fragrance load for a powerful experience.
CAREFULLY CRAFTED | This 11 ounce candle is proudly poured in the USA. Our history of USA manufacturing guarantees a premium quality product.
The Heritage Collection by Colonial Candle celebrates your favorite fragrances from Colonial's past. Reaching into the archives to bring your favorite fragrances back, the Heritage Collection brings the original formulations back! With a callout to the original wax colors on the labels, these are poured into our natural wax to ensure the integrity of the scents is intact. The Heritage Collection is a celebration of our history and our love and appreciation for our customers.
---